leed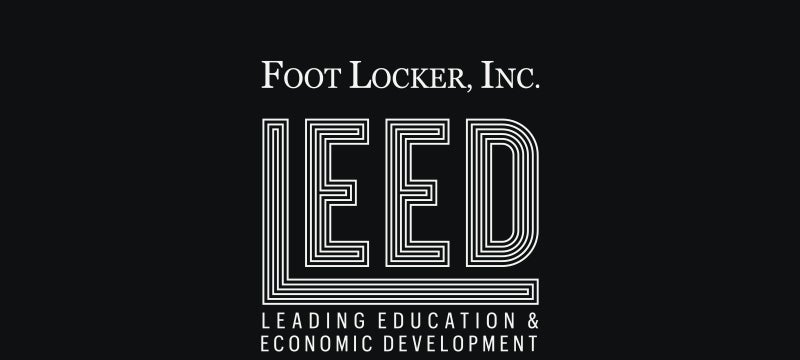 LEED is Foot Locker Inc.'s commitment to invest in, amplify, and empower the Black community that has been pivotal in shaping sneaker culture.

Education
Bridge Internships

Providing selected store team members the opportunity to bridge the gap between the sales floor and the corporate arena.

Scholarships

In addition to awarding external scholarships through our partnership with UNCF, the Foot Locker Foundation awards 10 annual scholarships to Black team members who are excelling both in our stores and in the classroom.

Pensole

In partnership with Pensole Design Academy, this program provides opportunities for Black creatives to develop skills to excel in the fashion industry.
Community Empowerment Grant

An international, multi-city initiative to support youth empowerment in underserved communities where Foot Locker Inc's teams live, grow and work.

Financial Literacy

A live training series that acknowledges the historical financial discrimination that created the racial wealth gap while providing foundational knowledge about personal finance for our team members. Created and customized by Society for Financial Education and Professional Development.

Economic Development
Black-Owned Brand Investment

From hyperlocal brands designing curated drops in our community stores to emerging brands in the global market. LEED continues to seek out and celebrate Black brands and creators.

Black-Led Venture Capital Investment

We've partnered with seven Black-led VC firms who are dedicated to investing in diverse founders. The underlying companies offer products, apps and services that enhance the health, wealth and wellbeing of the Black community and provide unique opportunities for growth.
Black Agencies and Creatives

These investments support the recruitment and commission of Black-owned marketing creatives, agencies and talent for key campaigns throughout the year.

Global Supplier Diversity

Through LEED, Foot Locker, Inc. is focused on identifying and partnering with Black-owned vendors for key services and supplies. including, information technology, general construction and maintenance, travel, meetings and events.

Hear More From LEED Partners